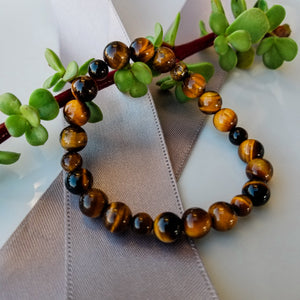 Beautiful Tiger's Eye is a Stone of Prosperity, Luck, and Success.
6.5"(X-Small) 7"(Small)  7.5"(Medium) 8" (Large) 9" (X-Large)
Protecting from negative energies, and is great for focusing the mind.
Known for attracting good luck.
Great stone for grounding and centering personal energy.
This is a powerful stone that helps you to release fear and aids harmony and balance.
Element: Fire, Earth
Chakras: Root (1st), Sacral (2nd), Solar Plexus (3rd)
Mohs Hardness: 7
Zodiac: Leo, Capricorn
All our pieces are cleansed and charged so they are ready for their owner to wear and benefit from their Energy, Beauty, and Healing Properties.