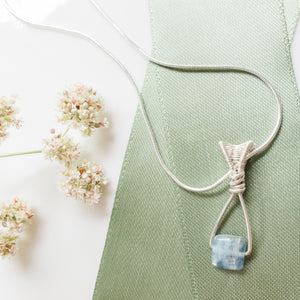 Stunning Dainty Blue Kyanite Sterling Silver Pendant Necklace. 
Stone~ Natural Blue Kyanite
Material~ Sterling Silver
Size~ 1.5" x 0.25"
Chain~ 18" Sterling Silver with Lobster Clasp
Shipping~ Orders fulfilled within 24hrs. Free returns. Quality Guaranteed
Blue Kyanite opens the throat chakra, encouraging communication and self-expression.

It cuts through fears and blockages, helping to speak one's truth.

It is very useful for public speakers and performers as it strengthens the voice and heals the throat and the larynx.
*We recommend taking off the necklace before entering the shower, pool, jacuzzi, or ocean. 
All our pieces are cleansed and charged so they are ready for their owner to wear and benefit from their Energy, Beauty, and Healing Properties.